I know not everyone has an iPhone...so if you don't and you're a writer, I'm about to make you really, REALLY wish you had one. :-)

Since the dawn of smart phones, I've been on the lookout for a phone that would allow me to work on my manuscript. It seems like a crazy way to work, but I was imagining all the times I was stuck at boring sports events or waiting at a doctor's office... All I needed was a way to write a few paragraphs here and there, then import them once I got back to my computer.


First, in the Sprint store, I eyed what was then called a "pocket PC." The pocket PC had both Word and Excel on it. I can't even remember why I decided against it but I ended up going with Sprint's iPhone imitation for a couple of years, which of course had NO apps for writing on your phone (or anything else, for that matter). Finally, this year, I got the iPhone and, after a few months, realized there was nothing I could possibly want to do in this world that I couldn't do on my phone. Including, WRITE!


A tiny bit of research led me to Manuscript for iPhone*:


It wasn't free...$3.99 to be exact. I'm the type who HATES to pay for anything on my phone but after reading the reviews, I couldn't resist. I pressed the "Buy Now" button and within seconds, I was writing.


ON MY PHONE!


(Can you sense the giddiness I felt over this?)


With so many people buying iPads, it makes sense to have an app like this...but I figure if I want to be able to write on my phone, others probably do, too. Manuscript is more than a notepad, though...it also allows you to outline, do research, or just type out a few little notes about your future progress. It even creates a cheap little mock-up of your work in progress: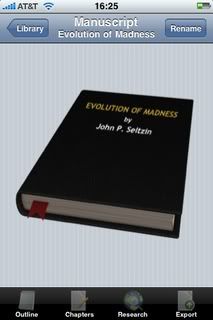 Your work will look like this:


When you're finished, you can e-mail a copy of your manuscript to yourself or you can export it via Dropbox...a handy little app that allows you to sync your phone with any computer where you have your Dropbox app installed. As soon as you finish exporting your work to your dropbox, a box pops up on your computer telling you a new document has been added. You never even have to hook your phone up to your computer. It's like a wireless jump drive. (And it's free.)


Okay, so writing on one's phone isn't for everyone. But, for me, it beats having to drag a notebook around to write longhand. People tend to give you really strange looks when you're writing longhand these days. Having your nose buried in your phone while your thumb moves over a keyboard isn't quite as attention-getting these days! Plus, when you work at a job (as I do) that often requires you to sit at someone's computer for as much as 20 minutes at a time, waiting for software to load, you need SOMETHING to occupy your time.


If you're interested in Manuscript for iPhone, iPod Touch, and iPad, it's available here: http://itunes.apple.com/us/app/manuscript/id339910826?mt=8M. And, no, I'm not being compensated in any way for writing about this. I just LOVE it and want to help out other writers who are as compulsive about writing as I am!


*Images courtesy of the iTunes store.